روژا جیهانى یا هاریێ ل كوردستانێ
روژا جیهانى یا هاریێ ل كوردستانێ هاته‌ ساخكرن ل 28/9/2016 ل هولا رێڤه‌به‌ریا ڤێتێرنه‌رى ل دهوكێ بهه‌ڤكارى دگه‌ل رێڤه‌به‌ریا خوپاراستنا ساخله‌میێ و رێكخراوا كوردستان بو پاراستنا مافێ ئاژه‌لى. لڤێ روژێ چالاكى برێڤه‌چو ب گرێدانا روینشتنه‌كا تایبه‌ت ب ئاماده‌بوونا ئه‌ندامێن په‌رله‌مانێ و نوینه‌رێن رێكخراو وچه‌ندین جهێن ئه‌كادیمیى و په‌یوه‌ندیدار و میدیاكارا . تێدا ئامارێن په‌یدابوین ل ئاژه‌لى ومروڤان بو سالا 2016 هاتنه‌ دیاركرن ب رێكا سیمینارێن به‌رێزان (د. دیار گیب , د. سكڤان حسن , د. سلیمان تمر ) دگه‌ل پێشكێشكرنا چه‌ند پشنیاره‌كا ژبو كونترولكرنا ڤێ نه‌خوشیێ ئه‌وژى :-
به‌لاڤه‌كرنا پوسته‌را بو قوتابخانا لدور خوپاراستن ژ هاریێ.
گرێدانا كومبونه‌كا هه‌ڤپشك ژبو دیاركرنا شیانێن هه‌ر لایه‌نه‌كى ودانانا به‌رنامه‌كێ كارێ هه‌ڤپشك.
دیفچوون وفشار خستن ل سه‌ر حكومه‌تا خوجهى وداخوازكرن ژ رێكخراوێن بیانى بو بكارخستنا پروژێ حه‌واندنا ئاژه‌لێن به‌ره‌لا .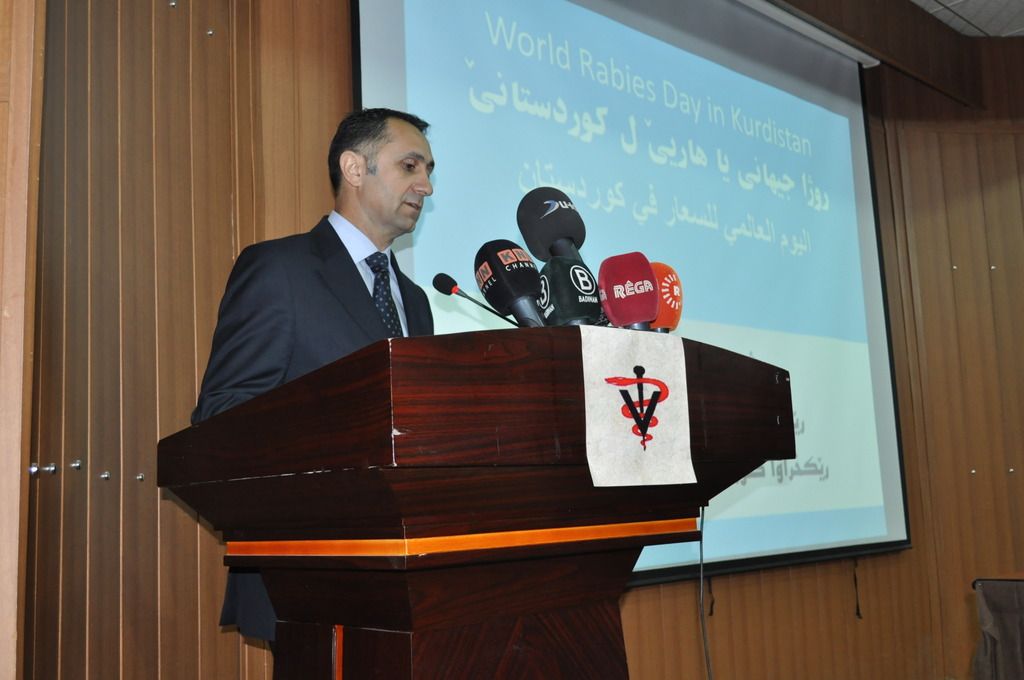 اليوم العالمي للسعار في كوردستان
بمناسبة اليوم العالمي للسعار في كوردستان 28/9/2016 قامت مديرة البيطرة و بالتعاون مع مديرية الوقاية الصحية في محافظة دهوك ومنظمة كوردستان لحماية حقوق الحيوان، بعمل ندوة خاصة بحضور اعضاء من البرلمان و ممثلين من المنظمات الانسانية والعديد من الجهات الاكاديمية و الرسمية و المختصة والاعلام. وقد تم عرض وتوضيح حالات الاصابة في الانسان والحيوان لعام 2016 من خلال القاء محاضرات من قبل السادة (د. ديار طيب، د. سكفان حسن، د. سليمان تمر)، وفي نهاية الجلسة تم الوصول الى الاقتراحات التالية للسيطرة على هذا المرض:
توزيع مناشير توجيهية على المدارس حول الوقاية من المرض.
القيام باجتماع للجهات المعنية لتوضيح قدرات كل جهة وعمل برنامج مشترك.
المتابعة المستمرة والضغط على الحكومة والمنظمات الخارجية لتنفيذ مشروع ايواء الحيوانات الضالة.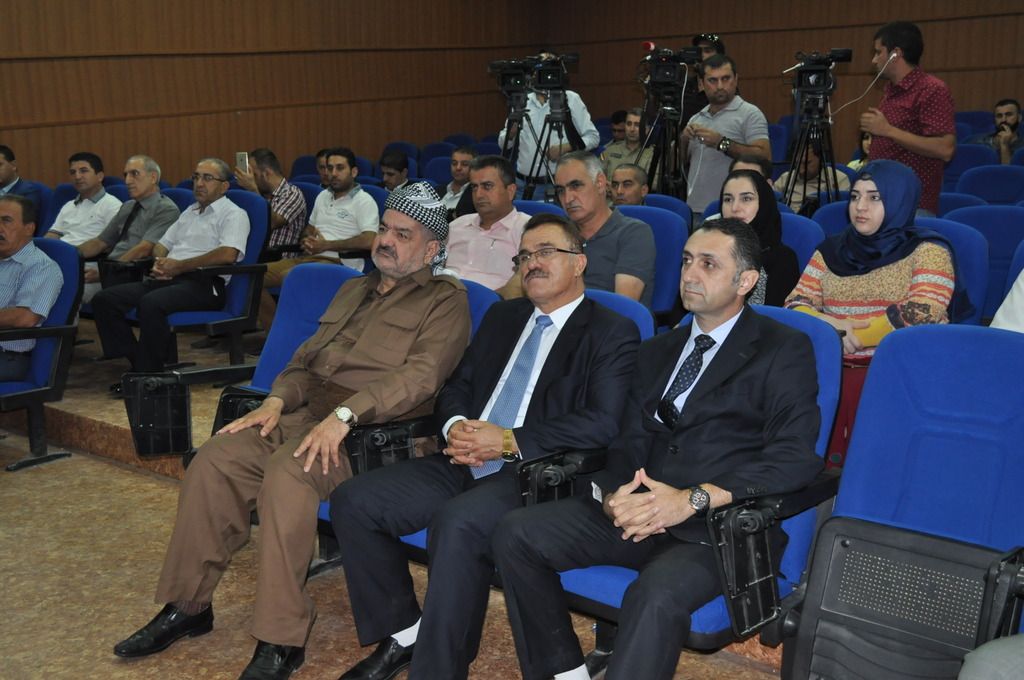 World Rabies Day in KurdistanOn the occasion of the World rabies day in Kurdistan 28/9/2016 our Directorate in collaboration with Health Protection Directorate in Dohuk province and Kurdistan Organization of animal rights protection, held a special session to celebrate this day. The attendances were P.M., representatives of academic and formal institutions , local humanitarian organizations and media. The recorded cases in humans and animals for the year 2016 has been listed and clarified through a lecture by the (Dr. Diyar Tayeb , Dr. Sagvan Hassan, Dr. Suleiman Tamar), at the end of the meeting bellow suggestions was raised to control this disease:
Distribution of posters to schools about the prevention of the disease.
A joint meeting to illustrate the capabilities of each authority and working of a joint program.
Follow-up and continuous pressure on the government and external organizations to implement a project sheltering stray animals.